I love my bamboo sunglasses so much!

Good quality and great lenses but design looks a little like 3D glasses in the movies.
Elena Taintey
Russian
Great looking sunglasses

Great looking sunglasses. I've received many compliments and people really appreciate the unique environmentally friendly design with the wooded frames. I also somehow managed to carelessly break them twice and took the back to the shop where the staff were happy enough to fix and replace them both times for free in a matter of days! Couldn't recommend them enough. Excellent value for money too.
Raphael Dormer
England

They are my favourite shades!

They're my favourite shades! I now have three pairs of shades from you hahah
Leah Fairchild
England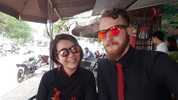 Thanks for the glasses

Thanks for the glasses, their roken. Also I bought a new pair, I couldn't resist. (selfie taken in friend wedding)
Holland
England